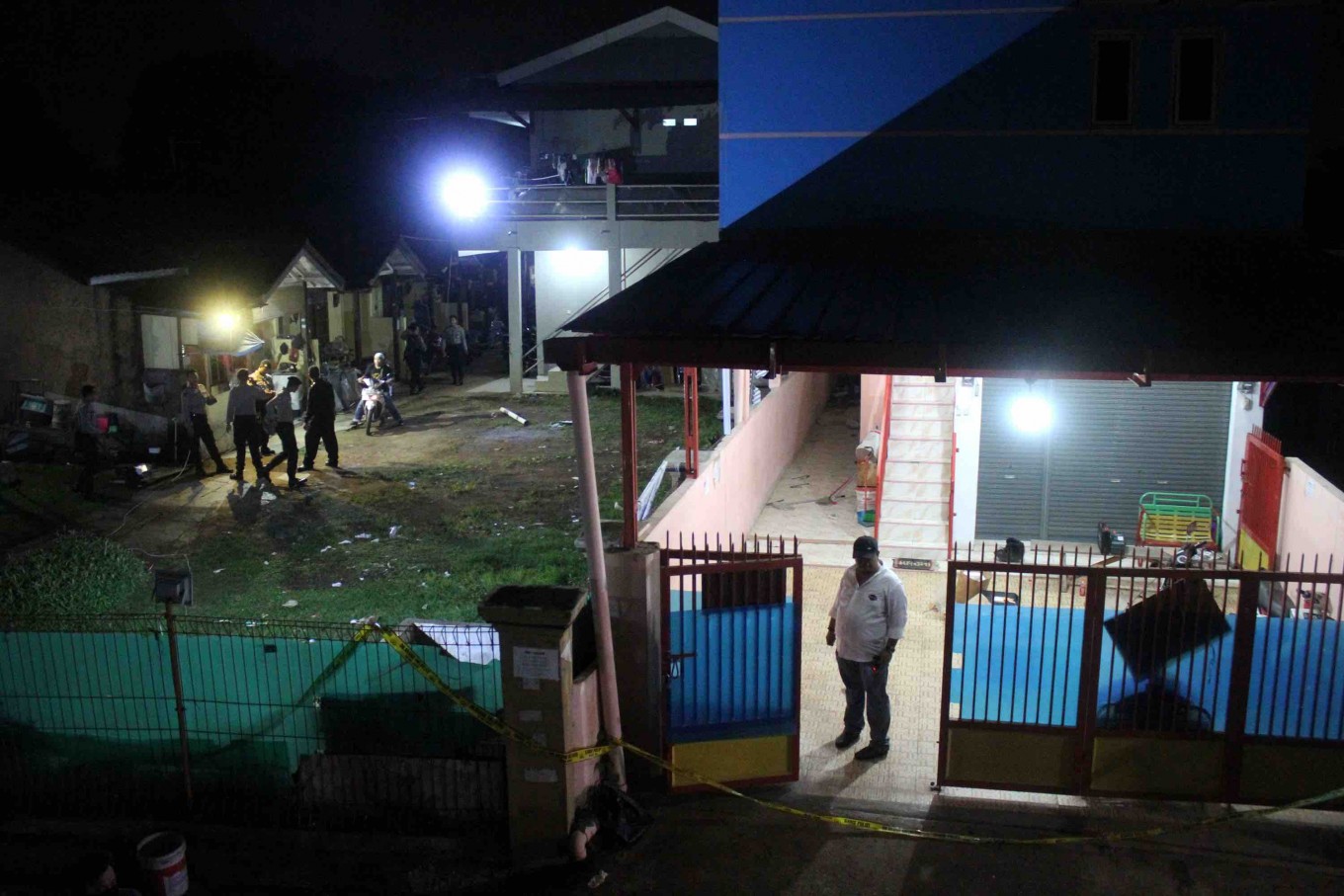 The police say that a group of people arrested in Bekasi, West Java, for allegedly plotting a bomb attack on the State Palace is part of a terrorist network controlled by a terrorist convict who allegedly masterminded a deadly terrorist attack in Central Jakarta earlier this year.
National Police spokesman Sr. Comr. Awi Setiyono said the police had uncovered links between the three people who were arrested on Saturday and Muhammad Bahrun Naim Anggih Tamtomo, aka Bahrun Naim, a leader of the Katibah Nusantara militant group, a regional affiliate of the Islamic State (IS) movement.
"Those arrested [in Bekasi] are part of Bahrun Naim's IS-affiliated network," Awi said on Saturday, adding that the police had conducted a surveillance operation before finally arresting them on Saturday.
(Read also: High explosive bomb prepared to attack State Palace)
The National Police's Densus 88 counterterrorism squad arrested on Saturday two men and a woman in Bekasi, West Java, for allegedly plotting a bomb attack at the State Palace in Central Jakarta.
The first two suspects, identified only as NS and AS, were arrested at around 3:40 p.m. on Saturday on the Kalimalang overpass, while the other suspect, a 27-year-old woman identified only as DYN, was arrested 10 minutes later in a rented house in Bintara Jaya subdistrict.
In the house, the police found a high-explosive bomb weighing around 3 kilograms packed into a pressure cooker.
(Read also: Terrorist attacks blamed on IS recruit Bahrun Naim)
Bahrun Naim himself is well known to the police. In November 2010, Densus 88 arrested him and seized hundreds of rounds of ammunition from his house in Surakarta, Central Java. The Surakarta District Court sentenced him in June 2011 to two-and-a-half years in prison for violating Emergency Law No. 12/1951 on illegal firearms possession.
Although his whereabouts remain unknown, Bahrun's crucial role in leading Indonesian terrorist cells became public after the police identified him as the mastermind behind a terrorist attack on Jl. MH Thamrin, Central Jakarta, on Jan. 14, which led to the deaths of four terrorists and four civilians.
As of Sunday morning, police personnel were still combing the house where the bomb was found searching for more evidence.
Cr. The Jakarta Post